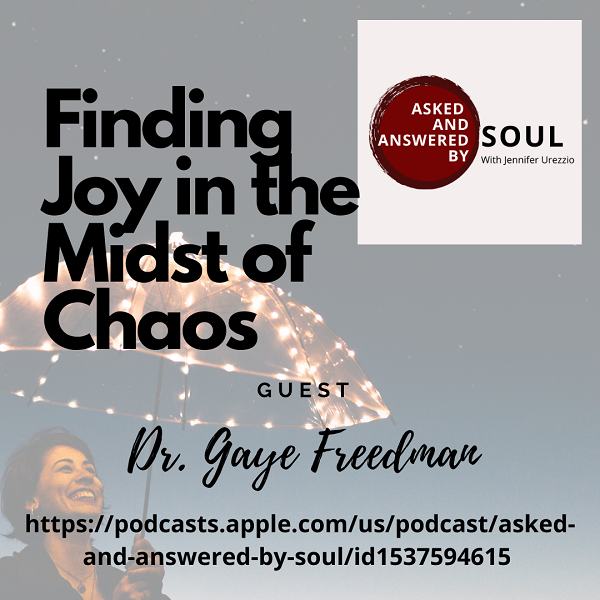 On this episode of Asked and Answered by Soul, Jennifer Urezzio and Dr. Gaye Freedman talk about finding joy and beauty in the midst of life's challenging moments. The world is beautiful, you are a part of that, and the Universe is open to you so you can be and have whatever you desire.
Join us as Jennifer and Gaye discuss moving through difficulty and learning that no matter the challenge, something good can always come out of it. Gaye shares with us her personal experience of finding joy and beauty in loss and sadness. She urges us to remember that the Universe wants the best for you - joy is available to you, you are worthy of it, and the Universe is trying to bring it to you.  
About Gaye
A devastating loss in Gaye's family sent her into a deep depression with thoughts of suicide. A quest to find out how to get rid of the pain led her to several years of searching. It was through that search that she came to the realization that has guided her life. SH*T HAPPENS, to everyone. It doesn't matter if you're rich, poor, black or white, skinny or fat, educated or uneducated.  Challenges are a normal part of life. Acknowledging this and then trying to find something that gives your life joy is what makes life worth living.
Finding joy is about acknowledging that in life we will all face challenges and loss, but then trying each day "to nurture the beauty, love, courage and laughter that is there amid the thorns.
Life was meant to be filled with Joy.  Gaye teaches women how to live a life that brings them joy.
You can learn more about her at www.gayefreedman.com.

The Asked and Answered by Soul podcast is dedicated to helping you understand that your Soul is the answer. If you are interested in learning more about the answers of your Soul, you can secure your free sacred practice tool here: www.soullanguage.us/sacredpractice