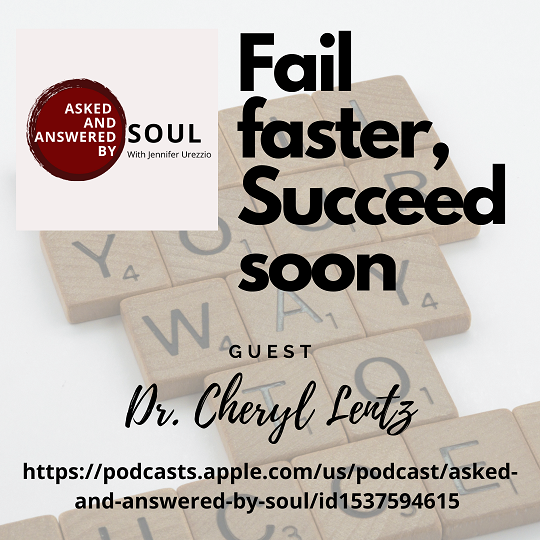 On this episode of Asked and Answered by Soul, Jennifer Urezzio and Dr. Cheryl Lentz discuss failure – understanding that it is just an experience not fully who we are, learning to recognize the gifts we can receive from it, and that failure is not the destination, it's not the outcome, it is just a learning process on our journey.
Listen now as Jennifer and Cheryl talk about exploring and owning your failures, slowing down in order to go faster, and how some dreams are so audacious, so big, so bold and we have been chasing them for so long, we need to take time to integrate their success and just be with it, then move forward into a bigger dream and discovering what the Universe needs from us next.
You can learn more about Cheryl at http://www.drcheryllentz.com/
About Cheryl:
Known as the Academic Entrepreneur, Dr. Cheryl is a unique and dynamic speaker who intensely connects with her audience, having one foot in academia and one foot in the business and entrepreneurial space. Her goal is to offer the audience pearls of wisdom today they can use tomorrow in their personal and professional lives. It is not enough to know, the expectation is for participants to take action and do. Join Dr. Cheryl on her journey to connect these dots to provide inspiration, knowledge, and counsel to move forward effectively.