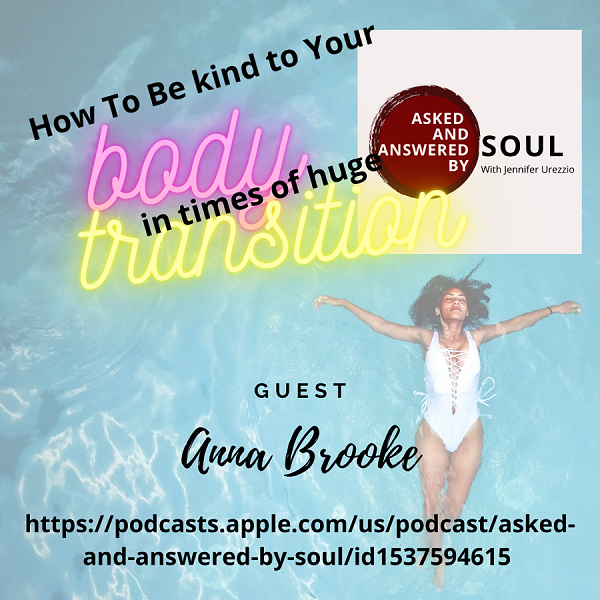 On this episode of Asked and Answered by Soul, Jennifer Urezzio and Anna Brooke talk about moving from self-judgment and feelings of separation that do not support us into being kind and gentle with ourselves, and knowing if we give ourselves permission to come back into that which connects us to all of life, everything that is ready to be loved and is calling for love within us will make itself known.
Listen now as Jennifer and Anna discuss making a choice to recognize the beauty and grace in life, that saying "yes" to your heart can bring you to the most meaningful experiences in life, how unkindness to yourself impacts every aspect of your world, and share a great tool for being kind to your body. 
Connect with Anna at www.annabrookehealing.com 
About Anna Brooke
Anna Brooke is an interdisciplinary healing arts practitioner and the author of Stripped Down: How Burlesque Led Me Home. She is also known as Rev. Legs Malone, a burlesque performer, show producer, educator, and advocate of all things striptease who has been featured in Page Six, Buzzfeed, and Huffington Post. 
Born and mostly raised in New York City, Anna began her path as a lover of art and dance, obtaining her BA and MA in Art History and Contemporary Art. Anna became a full-time healing arts practitioner in 2010. She has taught her transformational classes all over the world, most notably at BurlyCon, the world's only burlesque educational convention. It is her goal to help people reconnect with their own essence in love and discover deep, soulful possibility in their lives.