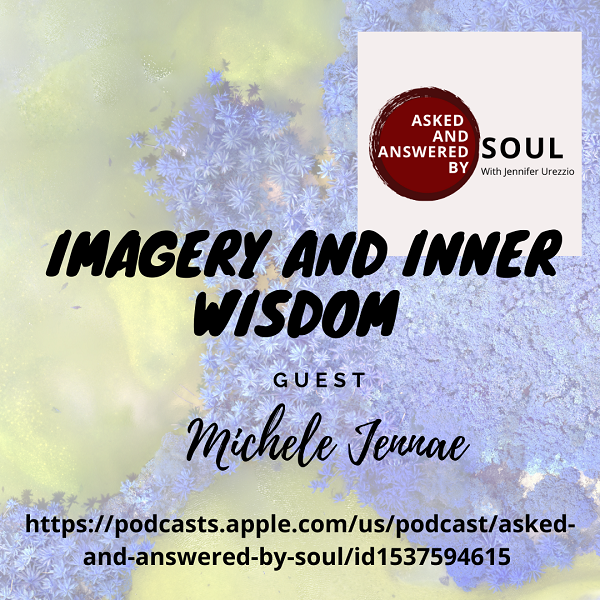 On this episode of Asked and Answered by Soul, Jennifer Urezzio and old soul archaeologist Michele Jennae talk about the imagery we receive from Divine Source and remembering that we have much more power than we know. Connecting with our inner wisdom is the place where we can be both grounded and also feel like we can touch the sky.
Tune in as Jennifer and Michele share ideas and tools for learning to understand and interpret the images from the Universe and our inner wisdom. The Soul knows what it sees, whether real life imagery or something that disconnects us from the cognitive function of analyzing, and when we are quiet and can tap into that, Divine Source gives us everything we need to be our brilliant selves and shine.
Connect more with Michele at www.oldsoularchaeology.com
About Michele
Michele Jennae is the founder of Old Soul Archaeology, an artist, healer, writer, and facilitator.
She felt called to teach/facilitate even before she could write, playing school in her childhood home basement with her sisters or her stuffed animals. Once she could string words together, she also knew she'd be a writer – poetry, prose, fiction, and nonfiction.
While she pretty much put her artist to sleep for almost 4 decades in the pursuit of left-brain activities, it has reawakened and has brought all of her other gifts along for the wild and wonderful ride. Healer was perhaps the gift that eluded her the longest, but she always knew she wanted to motivate and encourage people, and there is definitely healing in that. She has since become certified as a Master Teacher and Practitioner in Usui/Holy Fire Reiki.
The pivot point of her story is when she took full responsibility for her name and identity following a painful marriage and divorce. This energy shift opened up her creativity as well as avenues of exploration that have led her into this deep work.
She is skilled in the use of the imagination, imagery and visualization work, guided meditations, sacred dialogue, shamanic journeying, akashic records, and of course Reiki treatments and classes, and offers a wide variety of Old Soul Medicine Healing ideas and practices for your very own Healing Basket.
She has designed/hand-painted her own set of Oracle Cards, called Old Soul Oracle. The cards purposefully have no written interpretations, following Michele Jennae's belief that You Are the Oracle! They encourage the use of a Sacred Dialogue for a richer inner experience with the imagery of the cards.
Michele Jennae works with her clients in both group and individual coaching settings to help them DIG DEEP into their own Inner Wisdom!
The Asked and Answered by Soul podcast is dedicated to helping you understand that your Soul is the answer. If you are interested in learning more about the answers of your Soul, you can secure your free sacred practice tool here: https://www.soullanguage.us/sacredpractice/.