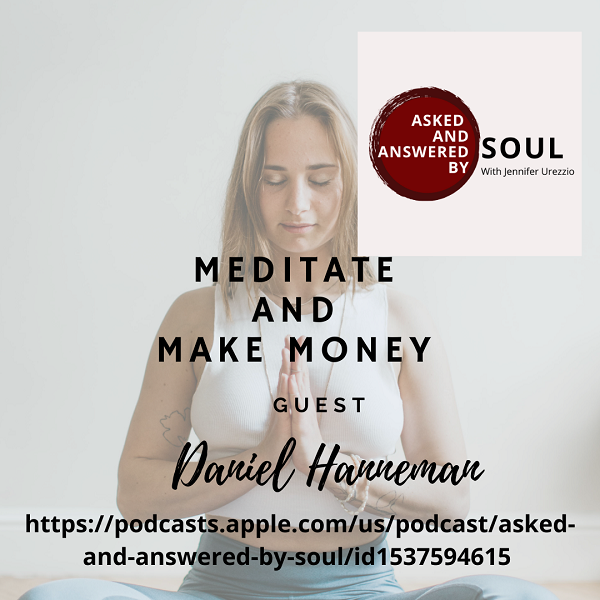 On this episode of Asked and Answered by Soul, Jennifer Urezzio and Daniel Hanneman talk about learning to meditate and how meditation can help you connect with and listen to your Soul, ground and focus your gifts, and open doors of opportunity to the flow of abundance and prosperity.
Join us and listen as Jennifer and Daniel explain that meditation is key to moving and choosing from presence and that stillness within. Sometimes we want to "microwave" our results, but what we desire may not be available without slowing down and listening deeply to our guidance. Money is energy and there are no limits to it. We create our abundance and there are infinite ways we can thrive and prosper when we get quiet and understand what is really true about us.
Connect more with Daniel at www.yoursacredpurpose.com
About Daniel
Daniel John Hanneman has an extensive background as a professional counselor and certified hypnotherapist with combined business and professional backgrounds in energy scanning, energy clearing, spiritual life coaching, intuitive business coaching, channeling, metaphysics, Religious Science, hypnosis, psychology, motivational techniques, and personal/business development systems. 
From a best-selling book series, Daniel has co-authored the book, Wake Up Live The Life You Love – Living In Abundance, which featured internationally renowned legends including Anthony Robbins, Dr. Wayne Dyer, and Dr. Michael Beckwith.  Daniel is the creator of the Your Sacred Purpose that is unleashing the hidden greatest potential within world changing empaths, healers, and spiritual entrepreneurs by loving all of themselves including their full power, their greatest gifts, their truest purpose, and the ability to deepen the awakening of consciousness on the planet while enjoying profound money success. 
The Asked and Answered by Soul podcast is dedicated to helping you understand that your Soul is the answer. If you are interested in learning more about the answers of your Soul, you can secure your free sacred practice tool here: www.soullanguage.us/sacredpractice