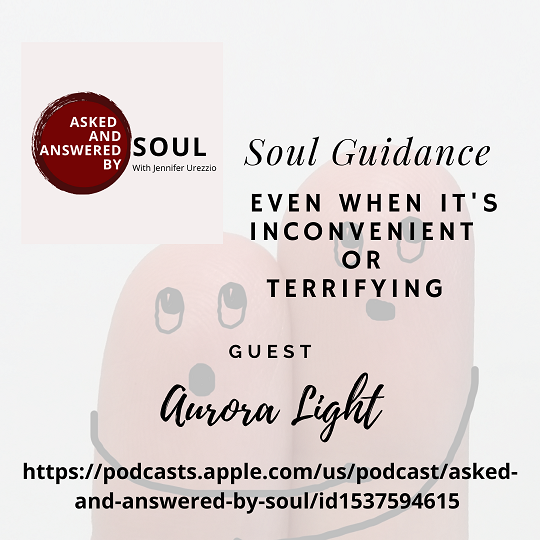 On this episode of Asked and Answered by Soul, Jennifer Urezzio and Aurora Light share how to create and manifest more joyfully and that when you do that, things open up for you in miraculous ways, everything flows so much more easily, and that if it's fun – you're doing it right.
Listen now as Jennifer and Aurora discuss how your Soul is here to tell you everything you've ever needed to know, and is your best guidance when you take time to listen and are courageous enough to take the aligned action that is asked of you.
You can learn more about her at www.joyevolution.com. 
About Aurora:
Aurora calls herself a Joy Alchemist and Soul Embodiment guide, as the founder of Joy Evolution.  Her mission is to empower you to go from fearing your spiritual gifts to fully stepping into your power as a conscious creator of your reality, so you can fulfill YOUR soul mission and light up the world!  She is here to remind you that everything you have ever done has been training for this time. You have honed your skills and it's time to step up, trust your damn self, and shine!
Aurora loves holding space for epic transformations by blending the metaphysical with the practical and inspiring us to PLAY! She is a bestselling author, speaker, course creator, and mentor.  You can find out more at www.joyevolution.com
Join her free Facebook group for more activations here:  www.joyevolution.group
FB Business Page: www.facebook.com/AuroraAwakeningLight
 IG  www.instagram.com/joyfulembodiment/