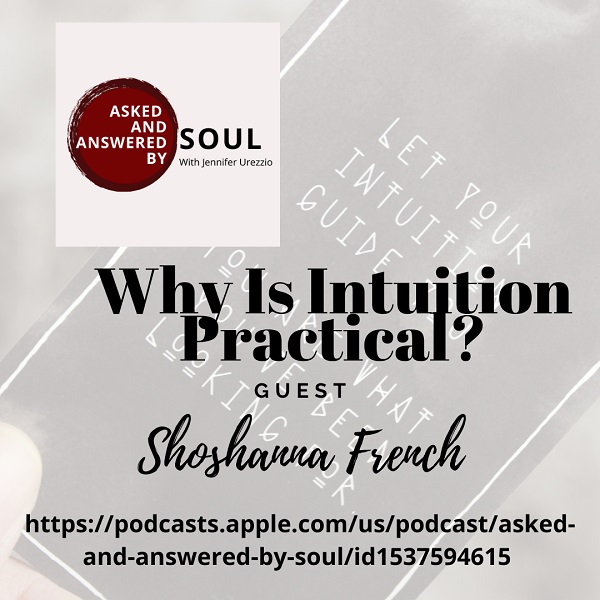 On this episode of Asked and Answered by Soul, Jennifer Urezzio and Shoshanna French discuss tapping into our intuition as often as possible, how it's less "woo" and more practical than you think, and that using our intuition can simplify things and lead to different solutions and possibilities for ourselves and our communities.
Listen now as Jennifer and Shoshanna talk about how intuition helps align us with learning to surrender to the joy and miracle of life, that it's much easier to find our intuition when we understand the mechanics of how it works, and that the more we practice listening to this inner guidance system, the more clear we become and the more deeply we can connect with others.
About Shoshanna French
Shoshanna French is an Intuition Expert, a        Coach and a Business Consultant. She  specializes in teaching others how to hear, trust, and then practically apply their own inner wisdom. For the last 16 years she helped thousands of people create greater personal and professional success and cultivate deeper inner fulfillment and joy. 
She offers corporate and personal retreats, training programs and one on one coaching. She has been researching and developing her work for the last 26 years and teaching for the last 16. Her classes and training programs have been led across the US, in Canada and Mexico. She has been featured on a number of podcasts most recently The Grit and Grace Show and Prosperity Place. Plus she has appeared on both FOX 31 news and CBS Channel 2.
When she isn't with clients, you will find her playing in the great outdoors, geeking out about brain science and quantum physics, and hanging out with her hubby Steven.
You can take the Intuitive Blueprint Test to learn how your intuition works www.simplespirit.com