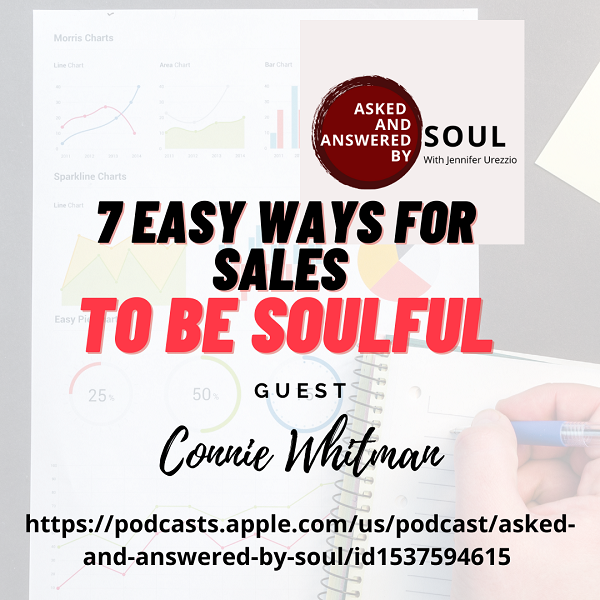 On this episode of Asked and Answered by Soul, Jennifer Urezzio and Connie Whitman share Connie's Easy Sales Process, and how these 7 steps can be Soulful as you connect more deeply and build lasting rapport with prospective and existing clients.
Listen now as Jennifer and Connie talk about how to quiet your intellect and ego in order to listen more, never take anyone for granted, and the importance of learning that you can support and serve your community while also accepting and receiving what others want to give you.
About Connie Whitman
Known for her high-energy, passionate, and enthusiastic approach to teaching and coaching, Connie Whitman has been the CEO of Whitman & Associates, LLC for 20+ years helping ambitious business owners, leaders and sales teams build powerhouse organizations.
A #1 International Best-Selling author of her book ESP (Easy Sales Process): 7-Steps to Sales Success, speaker, podcast host, and influencer, Connie's inspired teaching, transformational tools and content ensure that business owners and salespeople grow their revenue streams through enhanced communication skills.
As a podcast host, she is thrilled to share inspiring content on her two weekly, international podcasts the "Heart-Centered Sales Leader," and "Enlightenment of Change."
You can learn more about her by clicking Whitman & Associates.