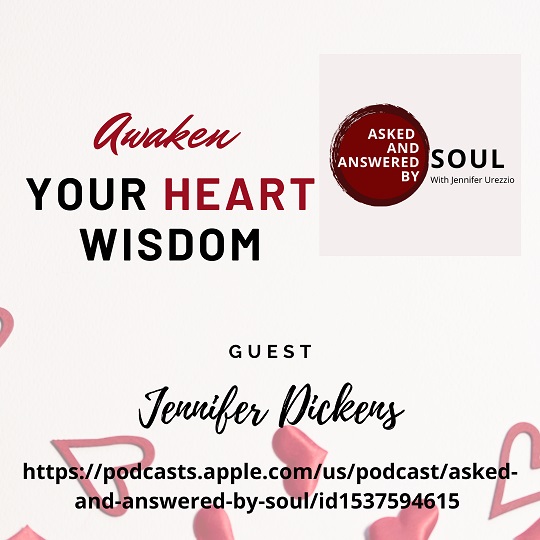 On this episode of Asked and Answered by Soul, Jennifer Urezzio and Jennifer Dickens talk about rising above the noise, learning to connect with and awaken our heart wisdom, and being part of this magnificent, unfolding journey of discovery and finding our Divinity within. 
Listen now as Jennifer and Jenn explore how we can move into our heart, experience difficult emotions and then release them so we can move on. Jenn also shares a simple practice for heart-focused breathing to help connect with our heart, ground and center, and create more clarity and focus in our life.
You can learn more about her at https://jenndickens.com/.
About Jen
As a Certified HeartMath Coach/Mentor, Jennifer has successfully worked with individuals and organizations in stress management, team coherence, and resilience coaching, as well as supporting more spiritual individuals in Awakening their Heart Wisdom. She is passionate about guiding people in discovering their true authentic self, creating a resilient life, and contribute to the leveling up of human consciousness.
Jennifer is a successful entrepreneur, as the founder and CEO of Whole Life Marketing (WLM), an internet marketing agency, she supports natural health and wellness brands grow their revenue and reach on the internet. The WLM Team has made a commitment to help individuals mindfully expand their consciousness by exposing them to healing modalities that treat the "Whole" body – Physical, Mental, Emotional, and Spiritual. Prior to that Jennifer spent much of her career as a sales and marketing executive in Fortune 500 and mid-size companies for over 25 years.