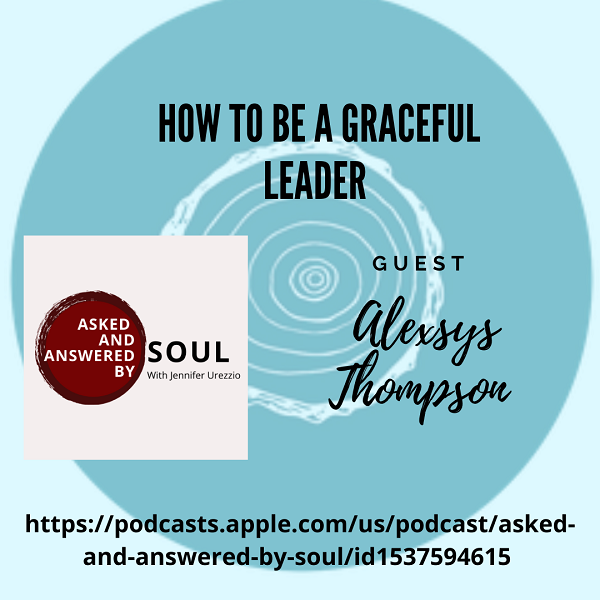 On this episode of Asked and Answered by Soul, Jennifer Urezzio and Alexsys Thompson discuss what it means to be a graceful leader and learning to embody the ability to know, love and honor your own complete wholeness and witness the same in others. The fastest and most effective path to graceful leadership is to take time, more now than ever, create stillness and be brave enough to be your own company.
Listen now as Jennifer and Lexy share their thoughts about being compassionately powerful in all things, choosing to remove the barriers and lead with your heart, and understanding that when you realize who you truly are in the world, true strength is not in duality, it's in the gray area between and knowing that there is a place for integration between the two.
Connect more with Alexsys at alexsysthompson.com.
About Alexsys
Alexsys Thompson, MLC, BCC is the creator of the Trybal Gratitude Journal, a keynote speaker, executive coach, a certified Soul Language Practitioner, and member of the Forbes Coaches Council. Her work is guided by her life's mission to create safe spaces for souls to show up.
She specializes in helping leaders step into their greatness by enhancing their strengths, creating strategies to bridge their gaps, and empowering their followers to do the same. Her commitment to clean, concise, and kind candor allows her to easily cut through the noise and find the optimal solution. Because of this ability, she is often described as "a breath of fresh air."
Following fifteen years of experience helping people step into their brilliance, Alexsys designed the Trybal Gratitude Journal as a tool for people to build a gratitude practice. Through her own practice, education, and work as a leadership coach, she's found that gratitude is the key to living a life by design. With this journal, anyone can begin to unlock doors and see the beauty in themselves and the world around them.
Her work combines years of experience and study in leadership, gratitude, and manifestation. Over the last two decades, she's led a variety of retreats, spoken at many conferences and events, as well as facilitated large and small group trainings and courageous conversations.
The Asked and Answered by Soul podcast is dedicated to helping you understand that your Soul is the answer. If you are interested in learning more about the answers of your Soul, you can secure your free sacred practice tool here: https://www.soullanguage.us/sacredpractice/.